Empire State of Mind - for a Weekend
A weekend excursion to the Big Apple, with my favorite activities and sights in NYC.
Ever since January of 2017, my brother Chase and I have made a strong effort to get out of Philadelphia as often as we can. In July of 2017, we figured a 2 hour drive up to New York City would be easy and very eventful.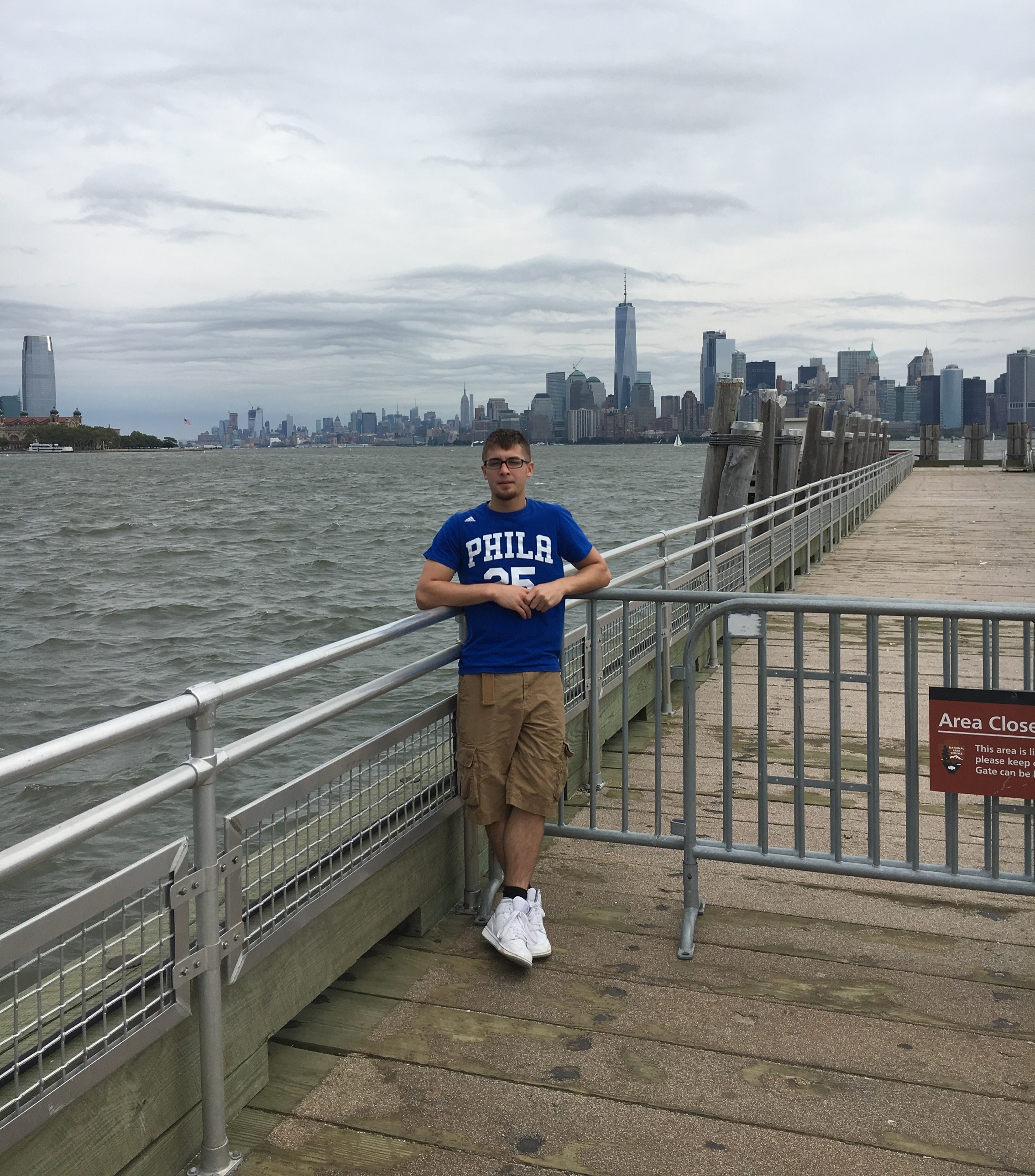 At the time, I was going through a time of feeling like I was trapped.
I had just taken on the Assistant Salon Manager position at work. I love being a hairstylist, but leaving my salon and moving somewhere new, means I start over completely. I'd have to rebuild my book of clients to make even close to financially making it like I am here now. The management route would be a cushion, where at least if I decided to move away from Philadelphia, I had to opportunity too be hired as a Salon Manager at another ULTA location and had somewhere to start.
Where New York City played into this was that I have ALWAYS wanted to live in NYC.
I have always seen my future being an independent woman, high fashion, high heels, social events, and big city dreams. Philly is where I was born and it is where I live now, but in a way, I have no real desire to stay here.
In this breakdown of feeling trapped, a trip to NYC for a weekend seemed like the high I needed to self medicate.
We stayed in an Airbnb in Battery Park that was a beautiful studio in a high rise with narrow view of the Hudson River.
Our first day was filled with walking and tourism.
We strolled down Wall Street and around the Financial District. After grabbing some fruit smoothies, we made our way down to the East River and had a spectacular view of the Brooklyn Bridge. For an interesting fact: I have a weird admiration for bridges and beautiful architecture. One of my favorite views in Philadelphia is the Ben Franklin Bridge.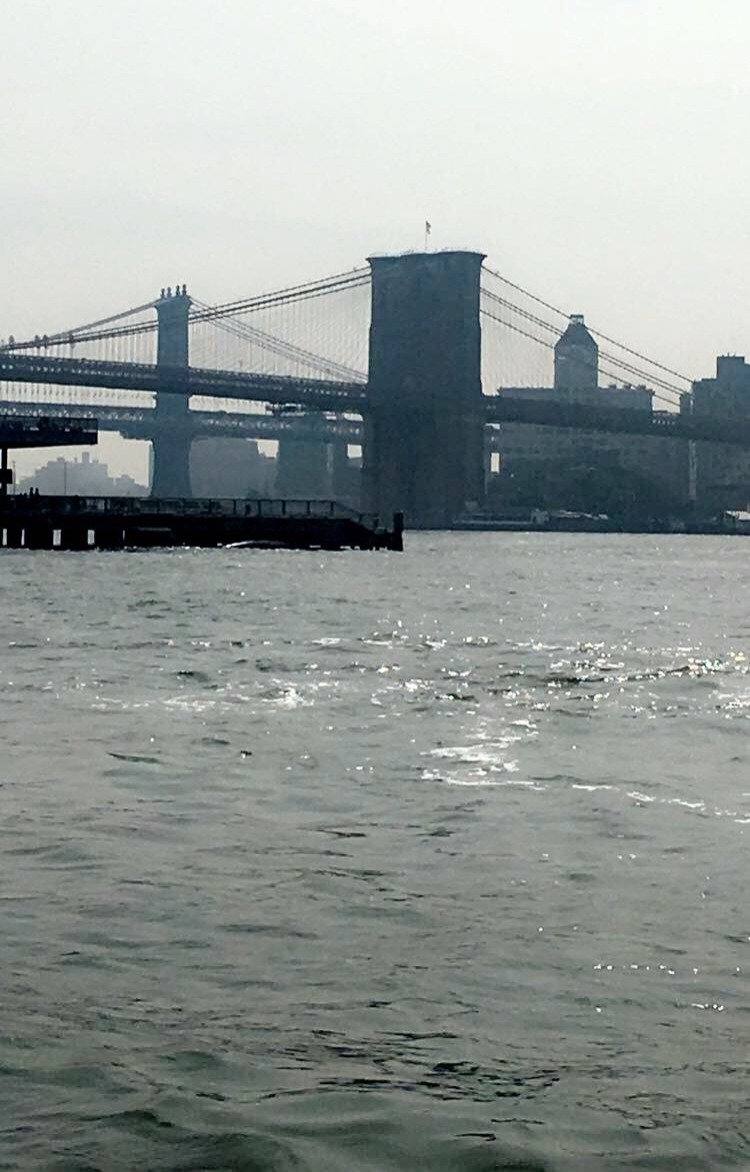 Later in the day we toured the Statue of Liberty and Ellis Island. As touristy as it was, it was something I had never done and I found myself gawking more than I would. I have such a profound awe of history, especially when pieces of it are still physically here today.
The evening was more strolling as we made our way up past the shops on 5th Avenue, grabbed a late lunch/early dinner at John Do's followed by a view of the Empire State Building and a walk through & around the Rockefeller Center.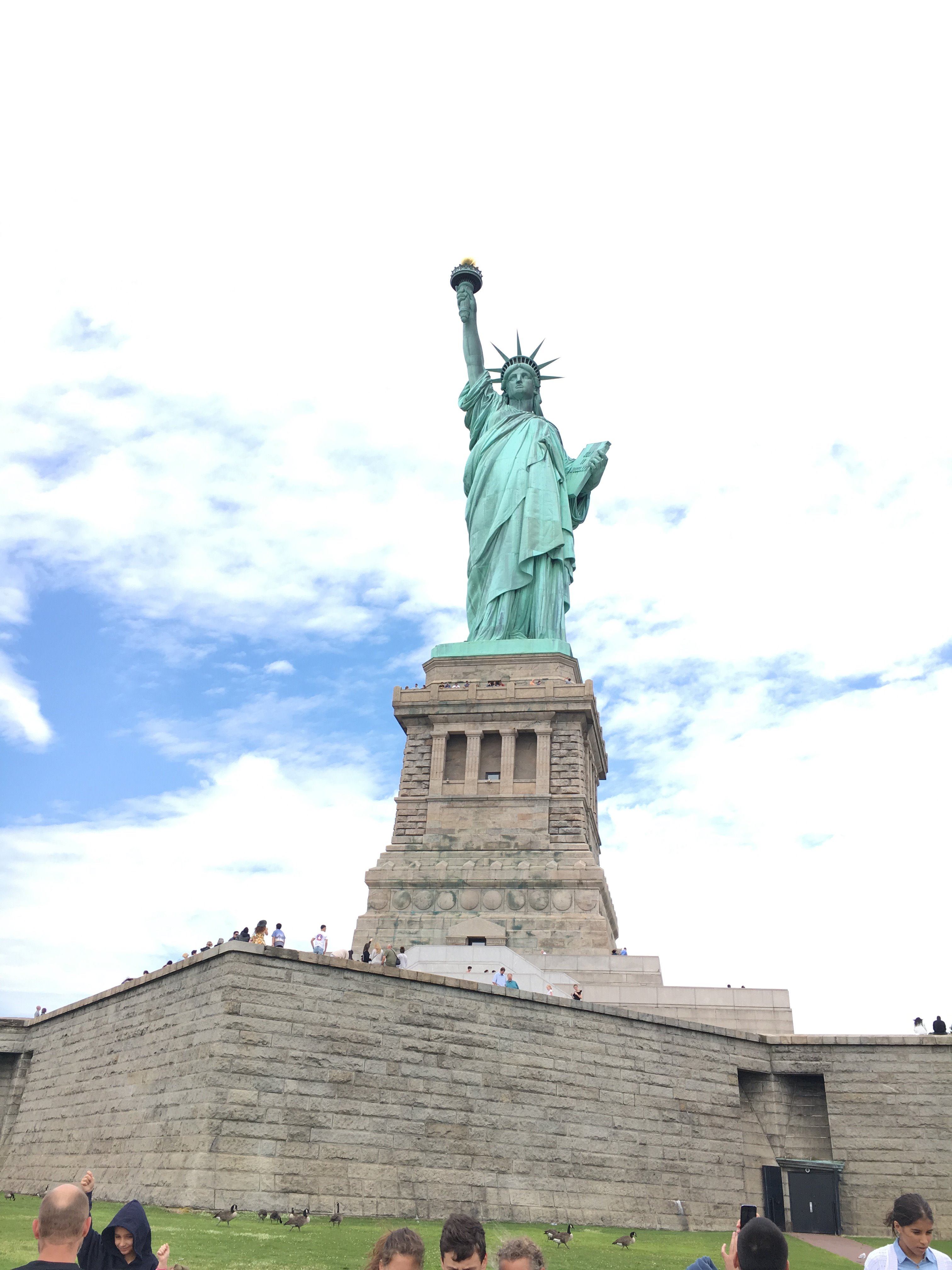 Day two was my absolute favorite.
We rented biked from a small shop near the Brooklyn Bridge and biked over the bridge into Brooklyn. I can't explain how thrilling this was. I don't know if it was because I hadn't biked in so long, or I loved bridges, or I just adored NYC, but I was cheezing so hard, my brother was laughing at me. He enjoyed it that much as well though. We both are certain that this is a MUST-DO activity when we go back to the city.
We toured Brooklyn by bike.
For about 45 minutes, we made our way around the west side of Brooklyn. My brother wanted to check out the Barclays Center. After being confused for about another 15 minutes, we finally found the bike path to get over the Manhattan Bridge which I wish I could say was fun, but it hurt. I guess if you're all about fitness, it was great, but the first park of the bridge is quite the uphill to bike over. The second half was a breeze that led you right into Chinatown. We spent some time touring that area and a bit of Little Italy before retiring the bikes.
After biking, we hopped on a subway up to Penn Station.
From Penn St. we walked down to Times Square. Now, you would think that everyone would simply LOVE Time Square, but I don't. Yup, I don't. I love New York, but not Time Square. It is ridiculously crowded and half the people are crazy. I do realize that my brother is 20 years old and looks older than me, but I get super protective since he's still my "little" brother. So, I found myself clinging to him all the way through the area.
Central Park was beautiful.
Despite the fact that my phone was severely dying when we got there, I would've loved to take photos throughout the park. It's so nature-y and photogenic.
When planning our tour of the park, I thought we'd have a much more stamina then we did. You really don't realize how huge the park is until you're there. We made a shallow coverage of the south end, decided we were beat and hungry, hopped on a subway, and got some pizza and wine to take back to our room.
After a bottle of wine, my fabulous idea was to walk back to the Brooklyn Bridge (I seriously have a fascination.) He agreed it was a great idea, so we got some amazing night-time skyline views. Again, I was in awe. I have such a love for this city that's such a stranger to me.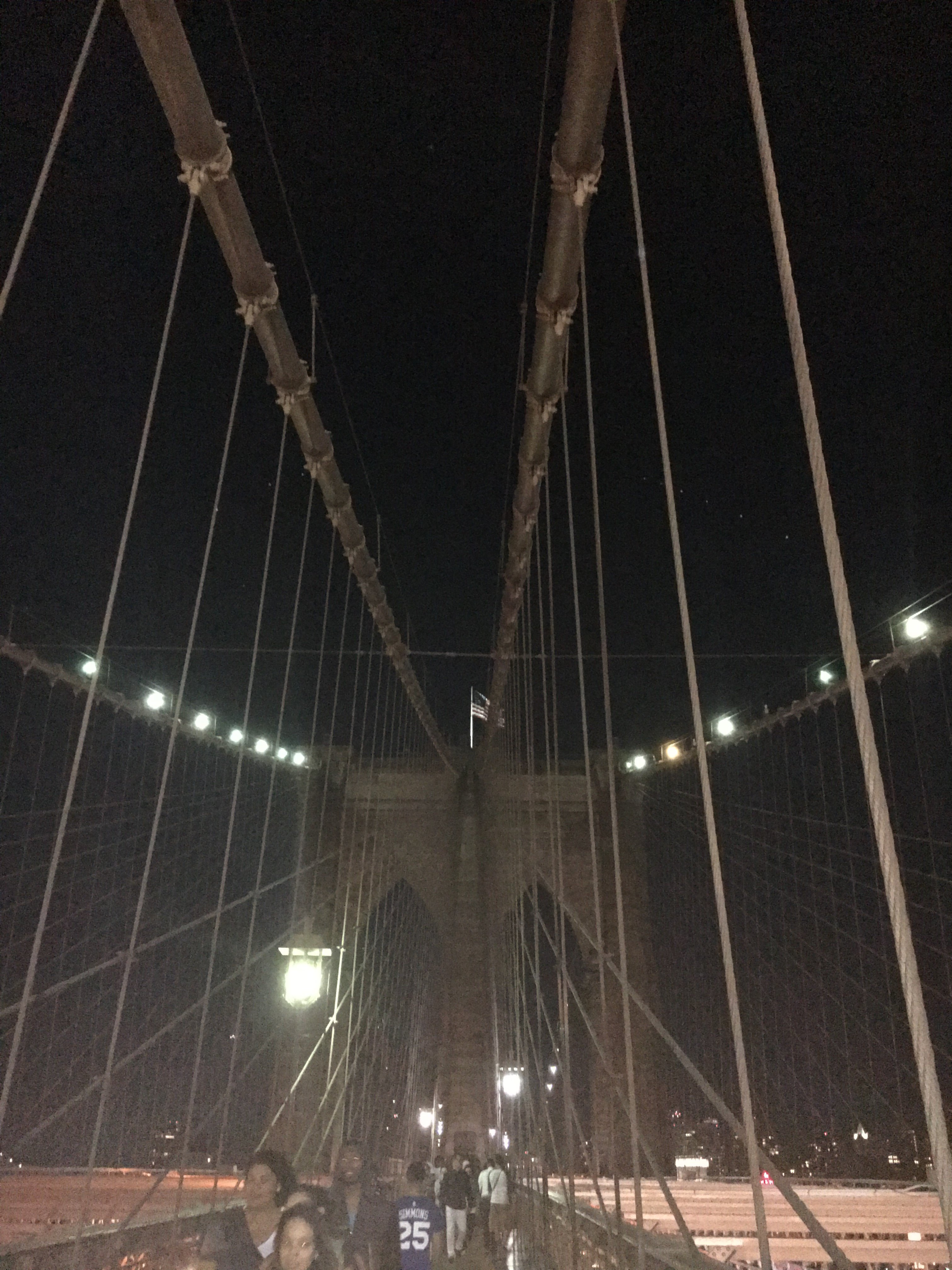 Some things weren't as planned.
We still laugh about my escapades that night. I think from being so exhausted, sore, and giddy, the wine was doing some damage. That night I managed to:
Pee in a bush (probably somewhere I shouldn't have, especially in NYC)
Drop my phone and brake the screen (needed to drop it off at the Apple store the next day)
Accrue an uncomfortable hangover for the next morning.
All in all, no regrets.
Day three was our last day before returning home. After dropping my phone off at Apple, we got on our subway up to the Bronx. There we caught our first Yankee's game at Yankee Stadium. For one, I was thrilled to finally wear my Yankees hat somewhere nobody would make a negative comment (Philly is the worst.)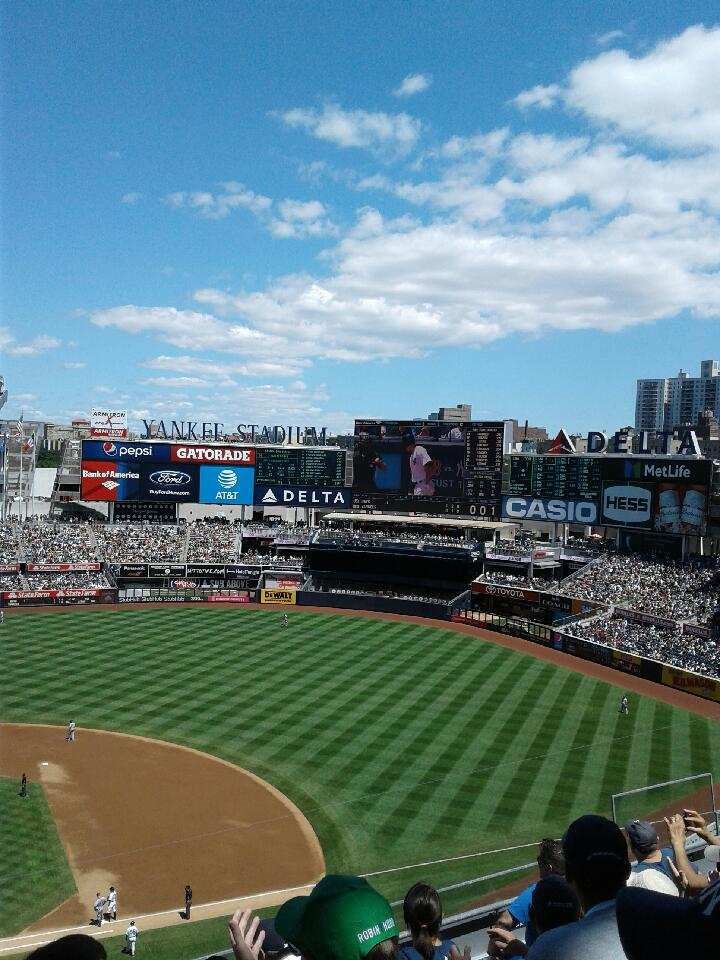 Six innings and some chicken tenders had us our fill of the trip and we were ready to head home.
The one thing that has stuck with me since this trip to the big apple, is that I still can't shake the feeling that I belong there. In February of this year, I read Andi Dorfman's book "Single State of Mind," and it has only amplified my feelings toward the matter (a great read that I HIGHLY recommend to single women of all ages.)
Have you ever been to NYC? What are your thoughts? I'd love to hear; I'll be reading the comments below!